December 30, 2020
In 'normal' years (which 2020 is certainly not), there is usually a cause for celebration when midnight strikes and when we bring in the new year. The end of 2020 and the beginning of 2021, however, has been frustrating and confusing.
Tier systems, changing the Christmas rules, not being able to see members of your family and these new (seemingly even more contagious) strands of Covid are likely to provoke more feelings of anxiety and worry, which are likely to have an impact on you and/or your child's emotional well being.
It's not just children with SEN's schooling and academic development that has been disrupted by the Covid pandemic (see our blog about the impact of Covid on learners) – their emotional development has taken a hit, too.
So says Amy Skipp, Director of Ask Research, who earlier this year conducted a study on behalf of the Nuffield Foundation examining the effects of lockdown on youngsters with special needs. These children, she says, have struggled most of all.
The project focused on five hundred families of children with a variety of complex needs including:
Special Educational Needs
Physical Disabilities
Social and emotional challenges
All with EHC plans
All attending special schools
Increases In Self Harm
"We found that children's behavioural problems increased," she explains. "The change in routines, new rules, anxiety-inducing pictures on TV and fewer opportunities to burn off energy, among other things, meant that mental health issues shot up. Many families reported an increase in self-harming behaviours such as head-banging, spitting and biting."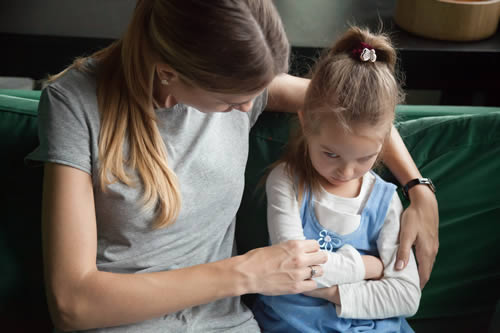 The fact that everyone was wearing masks, Skipp continues, made communication even more tricky for children already struggling with language and social skills. Others may have had to stay at home to protect themselves or family members with health conditions.
"It's going to take some months for these children to get back to how they were before the pandemic," she warns. "Some developmental milestones might have been missed."
Disrupted Routines & Impact On Learning
Jane T, a maths and English tutor specialising in working with kids with special needs agrees.
"SEN children have a variable amount of additional challenges to mainstream children," she says.
"For many of them, their routine in school is paramount. Lockdown restrictions have massively impaired these routines and have impacted not only their learning but also behaviour and confidence levels."


John, a tutor specialising in teaching English to kids with special needs, feels that students are falling behind with their studies and that this, in turn, is exacerbating the emotional stresses of emotional isolation.
"I suspect a lot of parents are not prepared to acknowledge the negative impact Covid has had on their children's education," he cautions. "They think it is an indirect criticism of their own parenting skills."
As the father of two teenagers, John, like many other parents, admits to worrying whether his children would cope with the changes to their schooling forced on them by the pandemic.
"Luckily, I've found them to be surprisingly resilient and independent," he smiles. "They also seem to be emotionally strong and have weathered the trials and tribulations of Covid and relative isolation pretty well."
"Fortunately, their school's response has also been on point," he continues. "I'm not sure this is typical. I suspect that many families, pre-Covid, made assumptions about the quality of the education their child was receiving and the progress their children were making."
Surprising Benefits To Mental Health
Surprisingly, Jane W, a former SENCO and headteacher and now a specialist SEN tutor, has witnessed that some young people's mental health has improved due to the slower pace of life and increase in home learning.
"I've seen both my own grandchildren and my tutees grow in confidence, become calmer and therefore have better behaviour, now that Covid has been limiting schools' activities and opening hours for some time," she points out.
"Children are not being forced to learn at such a fast rate and this is causing them to enjoy learning more," she carries on. "Topic-based learning has been introduced more freely which has been proven to make children engage more and make connections – this has to be a good thing!
"Spending more time with parents (despite how it might feel for both parties at times!) seems to have made the children I know and interact with calmer and more confident. There are strong lessons to be learned from this I think!"
Continuity & Sticking To Routine
James, a former SENCO and currently a tutor with autism expertise, says that children with special needs were already vulnerable due to cutbacks to services and that the pandemic has taken away even more support and predictability from their lives.
"The lack of structure during the various lockdowns has had negative impacts on the social and emotional development of SEN children and young adults," he comments. "This has exacerbated any underlying or existing mental health problems."
However, James has also found that the student he works with one-to-one has managed to thrive in recent months.
"There has been no change to their behaviour and because of this, you could argue that their confidence has grown," he says. "This could be down to continuing daily sessions and sticking to routines – which still involves going to a local park. Even during this upheaval, I always try to keep a sense of normality for students."
Conclusion
As we still don't know how long the restrictions will continue, the message for families seems to be to keep family life as predictable as possible.
If your child is falling behind with their studies, SEN home tutors can help them catch up and bring much-needed calm to the home environment.