December 21, 2020
Christmas can be challenging for children with SEN and ASD (autism). Changes to their usual routines, bright lights, shiny wrapping paper and different food and drink can lead to sensory overload for some, meaning meltdowns for the children and frayed nerves for their parents.
This year, in the shadow of the Covid virus, everyone is stressed and no-one knows from one day to the next what the rules are concerning travel and visiting friends and relatives. Many families, especially those with children with special needs, have been left wondering how on Earth they're going to keep everyone calm and happy during this challenging time.
Prepare in Advance
The National Autistic Society has a list of Christmas-crunching tips on their website. They advise making celebrations as predictable as possible for children with ASD, showing them pictures in advance of who they'll be mixing with and what they'll be eating. They also suggest taking your child's 'triggers' into consideration – for example, putting up fewer decorations if they find them too visually stimulating or having ear-defenders on hand if they're sensitive to noise. Making sure there is a quiet place they can retreat to if the revelry gets too much can also be useful, they say.
Creative Activities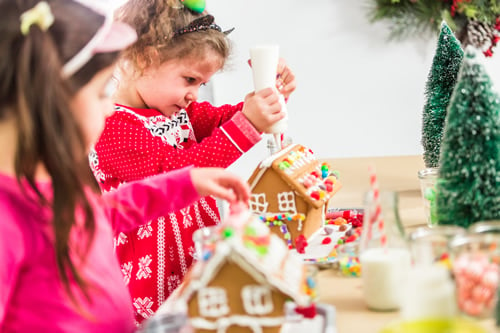 When it comes to cranking up the fun, SEN/autism tutor, Sarah, recommends planning different activities for each day of the Christmas holidays. This, she says, will give everyone in the family something to look forward to, regardless of their age or abilities.
Here are some of her suggestions:
Stage your own 'Twelve Days of Christmas', with a different music or drama activity each day.
Hold an arts and crafts afternoon where you can enjoy being creative together and sharing your hopes for the Festive Season.
Make mince pies or festive food and drink.
Clear your mind of any anxious thoughts and focus instead on things you enjoy doing such as puzzles, leisurely reading or quizzes.
Spend time with your pets!
Get some fresh air every day, even if it's only for twenty minutes, walking in the countryside or a local park.
Take on a new hobby – learn to ride a bike or play a musical instrument or memorise new words and phrases from a foreign language.
Watch Christmas movies and talk about them afterwards. Draw pictures of your favourite characters or write about them.
Check in with grandparents or other family members, even if you're not able to see them in person. Call them to see how they're feeling and ask if they need any help.
Some family members might be able to volunteer over the Christmas period or connect online to a charity needing assistance. This helps to take the focus off your own problems and helps others in the process.
Family Connection
Lucy, also a SEN/autism specialist tutor, maintains you can't beat a board game for family fun, camaraderie and mental stimulation over the Festive Season.
"A lot of learning takes place through play and while games-based learning on the computer has its place, getting out a real-life board game has significant benefits for kids – both socially and academically," she comments.
"Board games are a great way for families to connect over the holidays," she continues. "It can be hard to hit the 'pause' button on the busyness of everyday life and spend quality time together but playing board games gives you a rare chance to enjoy each other's company. The family unit strengthens as a result and everyone's sense of belonging increases. In addition, children develop key learning and social skills including verbal reasoning, problem-solving, turn-taking, teamwork and resilience – just to name a few!"
Literacy and Numeracy
Many of these games, Lucy points out, are based on Literacy or Numeracy. Word games such as 'Taboo' and 'Articulate' require children to speak clearly, describe objects without using key words, and listen to information given to them by other players.
Reluctant writers, she says, can engage in games like 'Scrabble' and 'Boggle' that focus on spelling and vocabulary and use random letters to create words. For developing fine motor skills, 'Operation', 'Pop-Up Pirate' and 'Jenga' all help to improve dexterity, reaction-time and hand-eye co-ordination.
Maths-o-phobes, Lucy explains, can also boost their numeracy without realising it by playing 'Monopoly' which requires players to keep track of their money and use addition, subtraction and multiplication. Games such as 'Homestretch' and 'Snakes and Ladders' introduce the concepts of probability and estimation and in turn, children become more proficient at working out the chances of certain outcomes, calculating odds and predicting how many points they need to win.
Kids With SEN and ASD (Autism)
Children with learning difficulties can also benefit from playing board games, even if they struggle to communicate and pay attention in other situations. Youngsters with autism, for example, often particularly enjoy board games because there are rules to follow with correct and incorrect play, meaning grey areas are removed.
Board games also promote resilience in children of all abilities and enable them to learn from 'failure' in a safe environment. Some kids find losing really difficult but actually, losing at a game increases their ability to deal with setbacks in real life. Modelling good sportsmanship is key – competitive dads take note! – as your child will then learn to lose graciously. Always congratulate the winners and celebrate other players' successes.
One final perk, Lucy emphasises, is that board games travel easily and don't need batteries. Switch off the computer, she urges, and get out the games for fun and learning guaranteed.
Everyone Matters
With so much to worry about this year, it is all too easy for parents to focus on their children's needs and neglect their own. Remember to enjoy yourselves, as well – take a walk in the fresh air or read a book in a hot bath – whatever will give you a boost and help you to wind down. After all, if you're calm, chances are your kids will be, too.
Many best wishes from us at SENsational Tutors 
Everybody at SENsational Tutors would like to take the opportunity to wish you and your family a wonderful Christmas and Happy New Year. 2020 has certainly been an incredibly challenging year. In a way it has brought into focus how important families are and we very much hope you are able to have a relaxing time with yours over the festive period.
MERRY CHRISTMAS and HAPPY NEW YEAR. Stay safe and well!