January 20, 2021
Bringing up kids with special needs brings loads of extra challenges. Most parents face these willingly because we love our children and want the best for them. But on those days when we've witnessed one-too-many meltdowns and our nerves are frayed, who hasn't secretly marvelled at the stamina of teaching staff who choose to work with these youngsters?
Educating children with issues such as ASD, learning difficulties, sensory processing disorders or physical disabilities, certainly requires commitment and a calm disposition. So who are these special needs saviours helping youngsters to learn and thrive? How did they come into this career and what makes them good at their job?
Here are 5 attributes that we believe make exceptional special needs tutors:
1. Patience
Elaine, a tutor and qualified teacher with a psychology degree and extensive experience working with autism, dyslexia, ADHD and dyspraxia, admits that not everyone is cut out for teaching in the field of special needs. "It takes a lot of patience and understanding," she explains, "but personally, I much prefer it to mainstream education. You've got more of a chance to make lasting changes in someone's life. Students are more than their diagnosis – they're lovely people."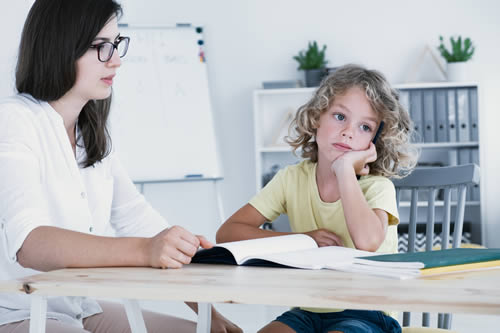 It's crucial, she points out, for a tutor to work with families in a non-judgemental way and to recognise that parents are doing their best to support their child. A tutor should also take time, she adds, to get to know the student; their likes and dislikes, and above all to pinpoint their communication needs.
2. Meet Basic Needs First
"It must be very scary for kids, trying to communicate with the adults around them when no-one's understanding," Elaine continues. "I had one student, for example, who kept shouting and nobody knew why. I asked him, 'Are you hungry?' Once he realised that was how he was feeling, he could say so and the shouting stopped. You have to consider someone's emotional wellbeing, sensory needs or even whether they're getting enough sleep. If their needs are met, they're usually fine."
She advises anyone thinking of working with SEN students to learn as much as they can about all aspects of additional needs. "You could, for example, shadow a speech and language therapist or an occupational therapist," she suggests. "You'll pick up tips which you can incorporate into your lessons."
3. Passionate About Helping People
Sabrina, a special needs tutor with two decades of experience working with kids with all kinds of physical and developmental challenges, believes that the best SEN teachers are those who are passionate about helping people. Her own entry into this line of work came when, as a teacher at a FE college, she was one day asked to cover a class of deaf students. She enjoyed it so much she asked to keep working with them.
"If working in special needs is for you, you just know!" she says. "It's massively rewarding and a privilege to get to know a student and make a difference in their lives. I always tell kids they don't have a 'disability' – they have a 'diffability'. In other words, they just have a different way of doing things. I feel I learn more from them than they do from me."
4. Tailormade Lessons
"The brilliant thing about working one-to-one with a student," she continues, "is that I can attune the curriculum to them and their interests. It's all about being flexible and adapting."
Like Elaine, Sabrina believes it's essential for tutors to keep learning and has mastered Makaton, BSL and PECS over the years. "Your skills need to be continuously evolving," she comments. "I'm currently thinking about taking a Master's degree in Psychotherapy to help me understand my students."
5. Empathy
Science teacher Bansi works in a mainstream school and also tutors children with high-functioning autism/Asperger's and ADHD. She helps them with the high levels of anxiety that often accompany such conditions and boosts their confidence.
As a scientist, part of her enjoyment of working with students with SEN, is the problem-solving aspect, thinking on her feet and finding ways to engage kids and keeping them focused.
"You have to be very, very patient, have empathy for the student and understanding of their issues," she explains. "You have to have a range of tools and techniques at your disposal – finding ways for them to burn off energy, for example. You also have to check that your students have understood what you're explaining, it's no good just spewing information. But it's wonderful when you see them have a penny-drop moment and 'get it'."
Get a Free 30-minute consultation to find out how you and your child can benefit from private special need tuition.