June 25, 2021
Teachers often talk about learning 'by stealth' – in other words:
'helping children to acquire new skills or improve their existing abilities without them realising they are doing so.'
An example of this might be getting a child to follow a simple recipe and cook a meal – a task that involves, reading, measuring, chemistry and physics but has nothing to do with sitting still at a desk and copying notes into a book.
But according to the experts, things kids do in their spare time, simply for fun, can also boost learning back in the classroom.
A Holistic Approach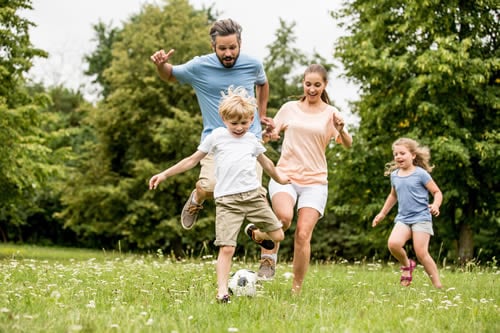 Physical activity, in particular, is essential for all aspects of a child's development, says Anthony Maher, Professor of Special Educational Needs, Disability and Inclusion at the Carnegie School of Education, Leeds Beckett University. "We tend to think that learning happens purely within the mind but it's also social, physical and emotional," he comments. "Most learning should involve the body, especially for kids with special needs. Physical activity releases endorphins and research has shown that it helps with sitting still and concentration."
Many children are put off P.E. at school, Professor Maher points out, because it's skills-based and competitive. Parents can compensate for this, he says, by helping their son or daughter to find a physical activity outside school that they actually want to do, taking their needs and capabilities into account. It helps, he adds, if other family members join in as they can often be role models for the young person. "But it's important that the children themselves are at the centre of these decisions," he advises.
Creative Freedom


Magpie Dance is a charity based in south-east London which offers dance classes for people with learning disabilities aged three upwards. The sessions offer participants a place to express themselves, away from the constraints of a more formal learning environment, says Ayanna Allen, Operations Co-ordinator with the organisation.
"There are so many positives to people with learning disabilities learning dance," she explains. "It helps with social skills, motor skills and understanding each other, and it gives them the chance to explore other ways of communication, especially if they're non-verbal. We encourage creativity in all its forms and allow our students to contribute their ideas in class, just to see what comes out. But really, our main goal is empowerment. We're helping people to find their own voice."
Magpie offers a variety of classes such as ballet, body conditioning and choreography, with live musicians in every session, and regularly puts on performances of the students' work. They also offer training courses for professionals working with people with learning disabilities.
Allen says she has noticed improvements in many students' speech after they've been taking classes for a while. Likewise, she continues, parents often report an increase in their child's overall confidence. "It's as if the young person thinks, 'I did really well at that performance' or 'I took the lead in that class, why shouldn't I do well at school, too?'" Allen speculates. "It's about giving them that self-belief."
The Power of Play
Georgina Durrant, a former secondary school teacher and SENCO from Cheshire, is passionate about the benefits of play for all kids. "There's no such thing as 'just' playing," she comments. "Play is how all children learn. Parents often tell me they feel guilty for playing with their kids but they shouldn't. It helps with language and literacy, social skills, motor skills – the list is endless."
Durrant has written a book – '100 Ways Your Child Can Learn Through Play' – which gives families ideas for fun activities for primary school-aged children which can also boost learning on the quiet. There are six chapters focusing on different learning scenarios:
The outdoors
Walking around
Sitting still
Rainy days
Arts and crafts
Sensory play
Her own favourite activity is 'Cereal World', a sensory game where, as the name suggests, kids create a crunchy landscape from breakfast cereal. "They have to make a porridge oats sea and a mountain out of crispy rice," she explains, "and if they put it in their mouths, it doesn't matter. The game is good for developing speech and language and imagination – and on top of that, it's really relaxing!"
If you're looking to improve your child's learning, why not take a browse through our listings expert SEN Tutors >>